Single Review 8-17-2020
By Jess Chizuk ,The Ark Of Music
Reggae artist Shuntai is originally from Jamaica, but he now resides in Oviedo, Florida. His lifelong affair with music began when he was very young, and in the years since he's had the opportunity to hone his craft and open for artists like Janet Lewis, Marlon Anderson, Bridget Blucher, Dr. Lt Stitchie, Sanchez, Judy Mowatt, and DJ Nicholas. His single Every Thing Bless offers great insight into the kind of music he makes – this is authentic reggae blended with messages of faith and unity.
Shuntai writes, produces, and performs his own compositions, and has released quite a bit of material throughout his career. His major projects include Guide and Protect Dem Lord (2010) It's All About Love-Remix (2011), Umoja Now I Say God's Children (2011),  Music Is My Destiny (2016), Don't You Ever trust Dem (2016), and Children Of Zion Weep No More (2017). Every Thing Bless was released in 2019, and since its premiere, it has been spreading a message of togetherness and peace to all who have heard it.
The track features classic reggae guitar rhythms, lovely backing vocals and harmonies, and minimalistic production that allows the song itself to be the focus. The hook is simple and catchy, and easy to sing along with after you've heard it just once. Shuntai says that in reggae music, the focus is always on bringing people together from all backgrounds and focusing on love and unity, and this track shows clearly that he is working to do exactly that with his music.
Also worth mentioning are the lyrics in this track. Shuntai shines a positive light on a number of situations, including truths from childhood and staying faithful throughout the successes of your life. He also reveals the exact meaning of "every thing bless" – it's the Caribbean way to say that everything is alright. He even includes a translation of this phrase in multiple Caribbean languages.
This year has been a challenge for nearly everyone, and we could all use more uplifting concepts in the music that we listen to. Take a step back from your day and enjoy a few minutes of peace with Every Thing Bless. Shuntai's continual messages of peace, love, and unity are good for the soul and for the world.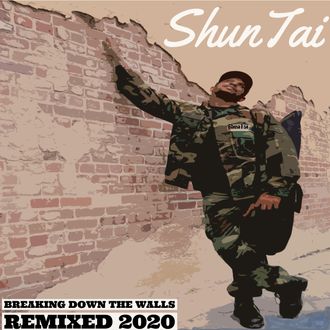 Single Review 11-17-2020
By Jess Chizuk ,The Ark Of Music
Earlier this year, we got our hands on single Every Thing Bless from Jamaica-born reggae artist Shuntai. With a plethora of music in his catalog carrying messages of faith, unity, and love, Shuntai has continued to create stand-out, uplifting reggae tracks over the course of his career, and his recent release are no exception to this pattern. Today we're taking a look at a remix of a previously released single of his, titled Breaking Down The Walls.
Shuntai's music always embraces the reggae genre wholeheartedly – the off-beat guitars and the punchy rhythms from the percussion are immediately recognizable. Breaking Down The Walls also incorporates a great variety of other instruments, including horns and an angelic choir of backing vocals, a great complement to Shuntai's soulful leading voice.
As we've come to expect from his music, one of the highlights of this track is Shuntai's message. This is a rallying cry of togetherness and harmony, urging peace and shunning prejudices. These inspiring lyrics carry great weight – but the high-level production on the track helps to elevate this message and strengthen it even further. We particularly like the first verse for driving home the concept that we are all very much the same:
"Jah will wipe away all our transgressions
Cleanse our soul of all its pollutions
Emancipate our minds from foolish mentalities
Wipe away all the illusions and confusions
Every man is just a man
Created by the same God"
We love Shuntai's messages of positivity and unity. At a time where so many stand so divided, it's music like this – well written and well produced music, we might add – that helps to bring people back together. For fans of authentic reggae with a genuine, wholesome message, Shuntai is unquestionably an artist to watch. Treat yourself to a listen through Breaking Down The Walls below.
Add text

Album Review 12-2007
By Radio Indy
"I Stand" by Shuntai (Reggae Artist from Orlando, Florida(FL))I Stand" by Shuntai shouts out to the Lord in the form of reggae. It is undoubtedly an expression of faith and the teachings of Christ. Aside from the powerful content, the music is top-notch. The sound is full and the arrangements are fresh and uplifting. Shuntai has a nice reggae voice and his delivery is soulful. Highlights include "Christian Soldiers Get Fired Up," which could probably be considered the "Anthem" of the album and features some cool vocal effects, a nice beat and airy guitar. "Sons and Daughters of America" delivers a powerful message and pleases your ears with an array of sounds."Fire Burning Deep Inside" wraps it up nicely with ultra happy organ lines. If you like Bob Marley or religious reggae, you'll enjoy this one.-William and the RadioIndy.com Reviewer Team